Vegetation Management
One of Network Rail's most high-profile challenges is managing their lineside vegetation and achieving the fine balance between keeping the railway running safely and protecting the rail corridor ecosystem. Getting this wrong inevitably draws public attention, either from tabloid reports of 'leaves on the line' that lead to train delays and cancellations, or from environmental concerns raised over the perceived loss of biodiversity and the visual appeal that vegetation often provides.
It's a massive challenge because Britain's railways have more than 10 million trees growing next to them – Network Rail carefully catalogued all of them during an aerial survey that covered 20,000 miles of track – so managing this in an ever changing and constantly growing natural environment requires enormous effort.
Typical vegetation management interventions include clearing all vegetation up to seven metres from the track, though with the precise scope depending on the site topography and the type of infrastructure, such as whether there are overhead power lines. Doing this ensures that overgrown trees and shrubs do not affect OLE or obscure signals that could potentially cause an accident.
Stobart Rail & Civils is one of Network Rail's tier one specialists providing vegetation management throughout the UK from their network of depots around the country.
Stobart's dedicated team of arboricultural specialists bring the expert knowledge needed to ensure that they plan and deliver each project in accordance with operational best practise while ensuring that they deliver solutions that are sustainable and sensitive to wildlife and the local environment.
To achieve this, Stobart focuses on developing biodiversity opportunities as well as simply removing vegetation. For example, on sites where there is enough room and it is safe to do so, some of the smaller branches may be left in a structured pile that forms a suitable habitat for wildlife such as hedgehogs, reptiles and amphibians.
Uniquely, Stobart adds further value through synergy with their Stobart Energy business. They are the UK's leading supplier of biomass fuel, delivering more than two million tonnes annually to provide a sustainable fuel source for energy recovery facilities around the country. This sale of arising biomass material from vegetation management programmes provides a valuable revenue source for clients that helps offset the cost of the vegetation management works, and contributes to generating renewable energy equivalent to the annual domestic electricity needs of 2% of the UK population.
Stobart's team also deliver complementary fencing programmes that further benefit lineside environments. As well as supporting their ongoing vegetation management programmes they have recently been busy installing more than 25,000 metres of temporary fencing along the HS2 route, with many thousands more programmed for delivery in 2020.
Stobart's comprehensive capability includes installing all types of fencing from permanent palisade fencing through to reptile fencing around development sites, and any related civil engineering such as drainage and ditch works, slope stabilisation and earthworks regrades to deliver an immaculate, well managed and secure railway environment.
With an ever increasing focus on environmental issues, the work that Stobart's vegetation management and fencing teams are delivering throughout the country will continue to enhance our railway's sustainability and protect clients' most valuable assets.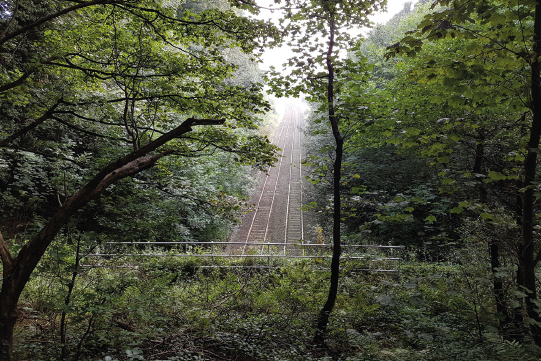 To help them develop fully integrated solutions throughout each site, Stobart's team use their bespoke GPS guided mobile vegetation management application. As their survey teams complete advance site walkthroughs they geolocate every important feature and link this to photos and detailed notes, then upload these to the cloud to build up a comprehensive visual record of the project's devegetation requirements, delivery constraints and biodiversity opportunities.
Using this enables Stobart to understand each site on a holistic level to best manage environmental enhancements, and it supports delivering the optimum resources to the right location to cost-effectively complete all works on programme and to report back accurately to their client.
Stobart complete all their work using their dedicated plant fleet. As well as specialist vegetation management equipment such as remote controlled tracked chippers that keep operatives well out of harm's way, their in-house road rail fleet ensures they can always provide the safest methodology by delivering plant directly into remote lineside locations. This enhances workforce safety by mechanising high risk tasks and enables ready extraction of timber back to accesses without requiring any manual handling.